Laura Thompson, Communications Access Advocate at AIM Center for Independent Living (CIL) in Downers Grove, Illinois, collaborated with the Illinois Deaf and Hard of Hearing Commission (IDHHC) to develop a communication card for Deaf and Hard of Hearing individuals to use with law enforcement.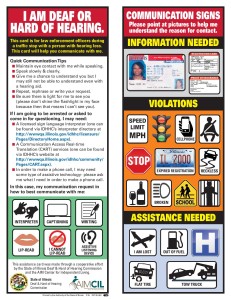 Download and print the communication card as needed for each of your vehicles. Since the flyer is a PDF file, you can also save it to your mobile devices (tablets and smartphones).
** For safety, we strongly suggest keeping the place card hidden from plainview. Such as storing it in your glove compartment, center console storage, or behind the sun visors.
Thank you for improving accessibility options for Deaf and Hard of Hearing individuals in Illinois, Laura!